Fess Parker
1924-2010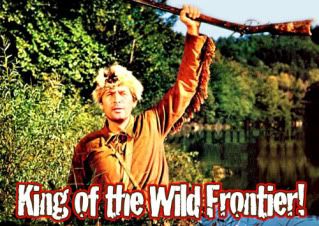 Biography for Fess Parker

Date of Birth
16 August 1924, Fort Worth, Texas, USA

Date Of Death::
18 March 2010, Califorina USA

Birth Name::
Fess Elisha Parker. Jr.

Height::
6' 5½"

Mini Biography::
A former college athlete at the University of Texas, Fess studied Drama in the early fifties and debuted in 'Springfield Rifle' (1952). He made only a handful of movies until he was signed by Walt Disney to star in the Davy Crockett series.
When Walt was looking for an actor to play the part of Davy, he screened the Sci-fi movie 'Them!' (1954) with James Arness. When he saw Fess in a scene, he chose him over Arness and Fess became an instant celebrity when 'Davy Crockett, King of the Wild Frontier' debuted in 1955.
His appeal with children was enormous with the coon-skinned hat and the hit song "Davey Crockett". But the craze ended almost as fast as it started in 1956, and Fess was typecast. Fess appeared in other Disney movies dealing with the early years of Davey and also in non-Crockett parts such as 'Old Yeller' (1957).
By 1959, unable to achieve the success that he had gained as Crockett, his career had leveled off. He made guest appearances on a number of television shows, but his attempted return to television in the series "Mr. Smith Goes to Washington" (1962) was not successful.
Unable to procure the rights to play Crockett from Disney, Fess tried the frontiersman role once again with the TV series "Daniel Boone" (1964). He played this role for six years and the fact that he had a beautiful red-headed wife in a color series did not hurt him at all. After "Daniel Boone", Fess retired from the screen and went into real estate, which was profitable.
He was later forced to sue his Daniel Boone producers over the profits generated by the series.

Spouse::
Marcella Rinehart (19 January 1960 - present) 2 children

Trivia::
Graduate of The University of Texas at Austin - BA '50
Played college football at Hardin-Simmons University in Abilene, TX in the 1940s before transferring to the University of Texas-Austin.
Parker was named a Disney Legend in 1991.
Discovered by Adolphe Menjou who was a guest artist at the University of Texas while Fess was a student. Menjou helped him with formal introductions when he first got to Hollywood.
Retired from Hollywood in 1973; among his successful California businesses are an ocean-front resort in Santa Barbara; a 21-room inn in Los Olivos; and an award-winning winery.
At the time he was famous in France for his Davy Crockett and Daniel Boone roles, French distributors found they had to rename him - on posters, in TV programmers...etc. - for the French audience/ Public, into "Fier" Parker.
One must know that "fesse(s)", in French, means "buttocks, bottom", whereas "fier" means "proud" ; a more becoming name for someone embodying American "Heroes"...
Walt Disney would not let Parker out of his contract, so he had to turn down a part in The Searchers (1956).
Song "King of the Wild Frontier" was Number 1 on the "Hit Parade" for 16 weeks. Parker was paid $150. (source: interview with Fess Parker in the SF Chronicle, "Datebook" ("Pink") section, November 12, 2006).
Best remembered by the public as Disney's Davy Crockett.
Parker talks about the beginnings of his career and the movie "Them!" (1954) in the book "A Sci-Fi Swarm and Horror Horde" (McFarland, 2010) by Tom Weaver.
Has two children, Fess Elisha III and Ashley Allen Rinehart.
Appeared as an uncredited extra in "Man on a Tightrope." He is seen for a few seconds near the end of the movie as a U.S. GI sitting in a jeep guarding the border.
Personal Quotes::
"There have been several turning points in my life, but the most important one came the day I stepped before the cameras as Davy Crockett. The way I look at things, a man's life story isn't his alone, but it belongs to a lot of people who have influenced him and done things for him that he can never repay."

"I guess you could call me plain. I don't go in for show. There isn't anything I want too much, except to be a good actor."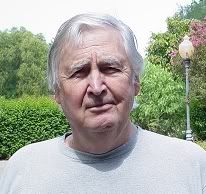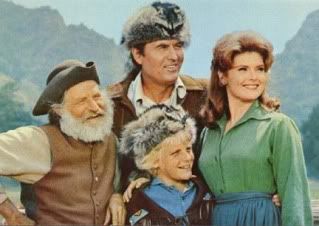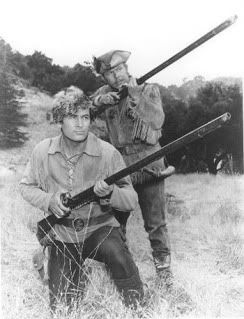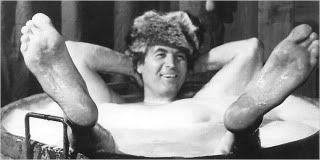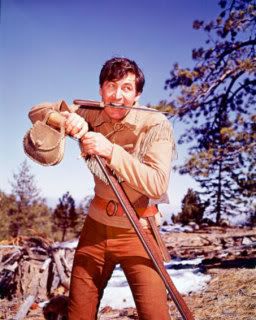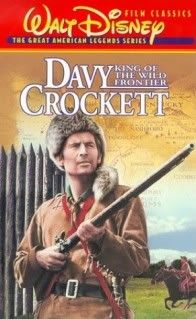 ===============================================================================
Back To Kaz's World